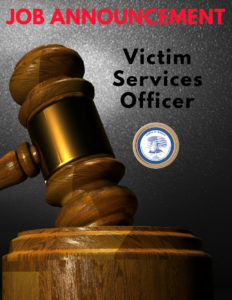 STARTING SALARY: $35,000
NATURE OF WORK: The Montgomery County District Attorney's Office is dedicated to making it easier for victims to go through the court process from the time of the incident until the final adjudication of the case. The Victim Services Officer (VSO) is responsible for victim services and assistance, including sending a letter to the victim which includes an introduction of the VSO and outline what steps may be taken next in the court process such as a Preliminary Hearing and Grand Jury.  If a Preliminary Hearing is scheduled, the incumbent phones the victim to ensure the victim received a subpoena, goes over the Preliminary Hearing process, and assures the victim that the VSO will be present with him/her in court. The VSO also attends all court proceedings with the victim and explains the process as it occurs (i.e. Motions that are made, rulings of the judge, etc.), and notifies the victim of sentencing and restitution hearings and attends the proceedings with the victim.
Email your resume to annagoodwin@mc-ala.org.