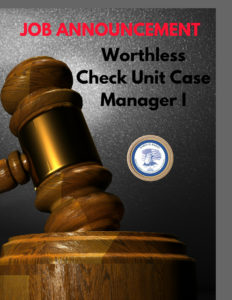 STARTING SALARY: $25,630
NATURE OF WORK: The purpose of this job classification is to provide clerical support to the Special Services Division (Worthless Check Unit) of the District Attorney's Office. The job incumbent uses independent judgment based on knowledge gained through specialized information through direct contact, law enforcement and court information systems, private and public information sources. The incumbent notifies defendants directly or by mail regarding delinquent monies, check warrants and any other special services matters. The incumbent works with victims to complete restitution information. The incumbent is required to use independent judgment, apply confidentiality, and assume responsibility for monetary transactions. The incumbent may work on cases from all levels of the court system and is supervised directly by the Director of the Special Services Division or his designee.
Email your resume to annagoodwin@mc-ala.org.